United Nation's World Water Development Report "Leaving no one behind" clearly giving indications of future water crisis.
Global water demand is expected to continue increasing at a similar rate until 2050, accounting for an increase of 20 to 30% above the current level of water use, mainly due to rising demand in the industrial and domestic sectors. Over 2 billion people live in countries experiencing high water stress, and about 4 billion people experience severe water scarcity during at least one month of the year. Stress levels will continue to increase as demand for water grows and the effects of climate change intensify.
South Asian Countries and its growing water demand
In South Asia, home to almost 1.6 billion people, cities are increasingly feeling the pressure of growth in population and urbanization. it's estimated that 22 of 32 Indian cities face daily water shortages. In Nepal's capital, Kathmandu, many local residents have grown familiar with waiting in queues for hours to get drinkable water from the city's ancient, stone waterspouts. In Karachi, Pakistan, electricity and water shortages have led to protests and citywide unrest.

Transboundary rivers like the Ganges, Indus, and also the Brahmaputra have defined the geography, history, and culture of South Asia for hundreds of years and are critical to economic process , food and energy security, and sustainable development within the region.
But over the previous couple of decades, these rivers have come under considerable pressure from industrial development, urbanization, increase , and environmental pollution. the current situation has been compounded by poor domestic management of water resources and increasing variability in rainfall and climate patterns that have made South Asia highly prone to floods, droughts, and natural disasters.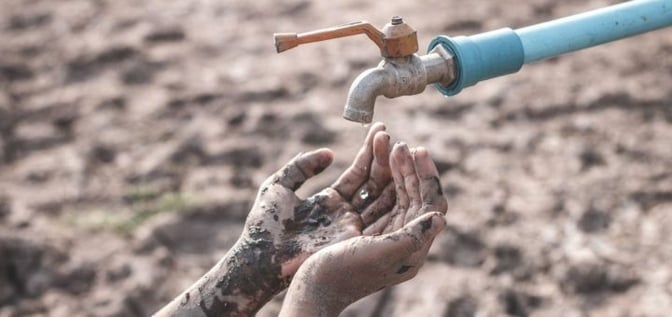 Source : https://thekootneeti.in/2019/07/21/water-crisis-south-asia-man-made-catastrophe/

While in areas like trade and energy South Asian governments have made significant progress in opening up and allowing the movement of goods and people, regional cooperation on water lags behind. Geopolitics and therefore the history of cross-border disputes have meant that transboundary water issues are perceived largely from a perspective of national security. This highly securitized approach has severely limited access to water and climate data within the region. South Asian governments, especially India and Pakistan, treat hydrological data as secret and classified. While some existing bilateral treaties and agreements, like the Indus Treaty of 1960 or the Ganges Treaty of 1996, do contain provisions for bilateral data sharing, actual data-sharing practices are unplanned , and therefore the range of data shared is sort of limited. it's also worth noting that none of the present treaties provide for the general public disclosure of knowledge or information exchange between governments.

The closed data environment for water and climate information within the region has compromised governments' ability to form informed decisions on the design , management, and development of what are essentially shared river basins. the shortage of data sharing has also affected governments' ability to deal effectively with natural disasters like floods, earthquakes, and landslides.
Studies conducted to fill the information gap and data available
A study – conducted with the world Resources Institute and civil society organizations within the se countries with support from Skoll Global Threats Fund – highlights a number of the key barriers to information access on water and climate issues in the region. The report illustrates that while governments in these countries have enacted laws and policies that seek to open up environmental data and knowledge , in practice, the securitization of data remains a serious constraint. Moreover, limited human resources, training, and capacity have undermined the potential of those governments to effectively implement existing transparency laws and policies. Across all three countries, hydrological data and knowledge aren't being collected, maintained, or published during a systematic manner. Where data is out there , it's often of poor quality, difficult to verify, and provided during a format that's not user-friendly.
While acknowledging the various constraints to regional data sharing, the forum also highlighted a number of the innovative ways during which participating groups are enhancing data access and exchange on water and climate issues. for example, within the northeastern Indian state of Assam, the environmental NGO Aaranyak and also the International Centre for Integrated Mountain Development (ICIMOD) have piloted an innovative community-based flood warning system that uses mobile phones to transmit critical flood-related data and information to communities upstream and downstream of the eastern Brahmaputra basin.
At a national level, multilateral agencies like the world Bank and others are supporting governments to enhance their data and knowledge management systems while simultaneously building government capacity to raised manage these systems. At a regional level, ICIMOD has been working with the governments of Pakistan, Bangladesh, Nepal, and Bhutan to develop a Regional Flood data system within the Hindu-Kush Himalayas that seeks to facilitate the sharing of flood data and information between countries to scale back the vulnerability of affected communities.
There are ongoing efforts to provide the media domestic sector with data and knowledge on water-related issues. for instance , the Third Pole recently launched a brand new, open-source geospatial database – Data.TheThirdPole – to supply the media and other stakeholders with access to a searchable catalog of water-related datasets sourced from different organizations in Asia. Such initiatives testify to the growing demand for more accurate and comprehensive data and knowledge on transboundary water issues on the subcontinent.
Due to which the whole tank could collapse (Can see in above picture). Air vents usually there to provide a strength to tanks a to fight with the atmospheric pressure.
Also if there will be vacuum in a plumbing system that will not work properly, importance of Air vent is always on a high priority. Sometime it is noticeable that spillage come out of the air vent. This is a very normal term as the vent is doing what it is meant to do – allowing the tank to exhaust internal pressure and 'breathe'.
Beltecno is one of the major contributor in South Asian countries to provide best solutions to store drinkable and purified water to communities and governments to over come challenges of water scarcity.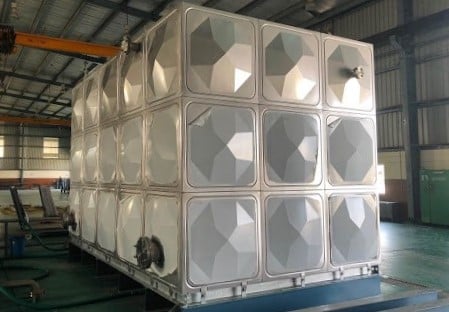 ---
Beltecno is supplying highly durable stainless steel panel tanks in Singapore for water storage.
---
For more information regarding our stainless steel panel tanks download our product brochure by clicking the button below, drop us your requirement on sales@beltecnoindia.com or call us on any of given numbers +91 9116009580/+91 7300084028
For more Details on Our Product click here
Check our blogs
Ref- https://www.pub.gov.sg/watersupply/fournationaltaps/newater